DATES: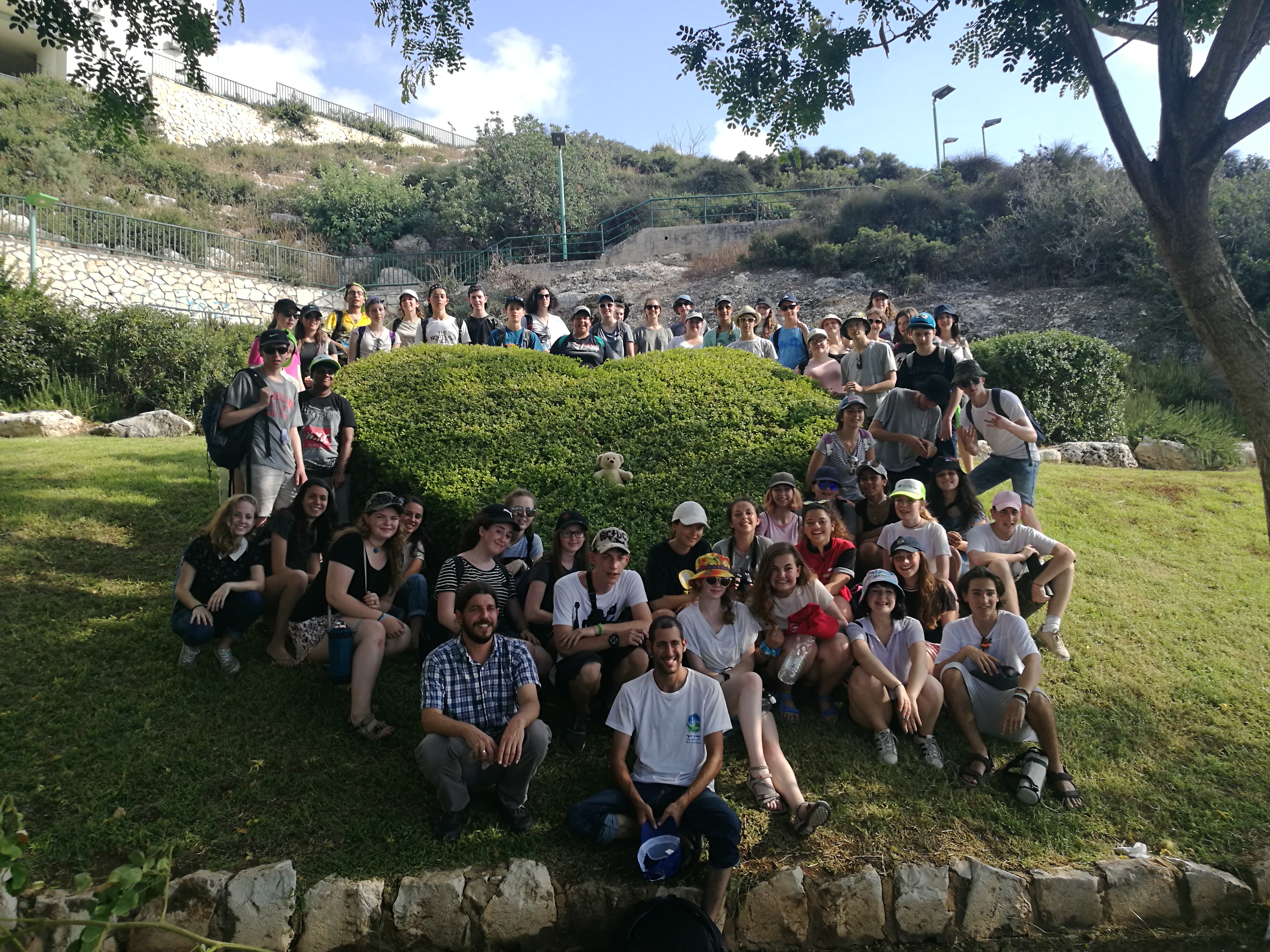 Israel Tour Taster Day: 10th December, Finchley Progressive Synagogue, 11:30- 17:30
Parents Evening : 10th of December, Finchley Progressive Synagogue, 17:30-18:30
Tour Orientation: 3rd-4th July
Israel Tour: 15th July- 7th August (Subject to change)
Click here for the initial sign up form. Once this form is filled in, we will email you on the next part of the application.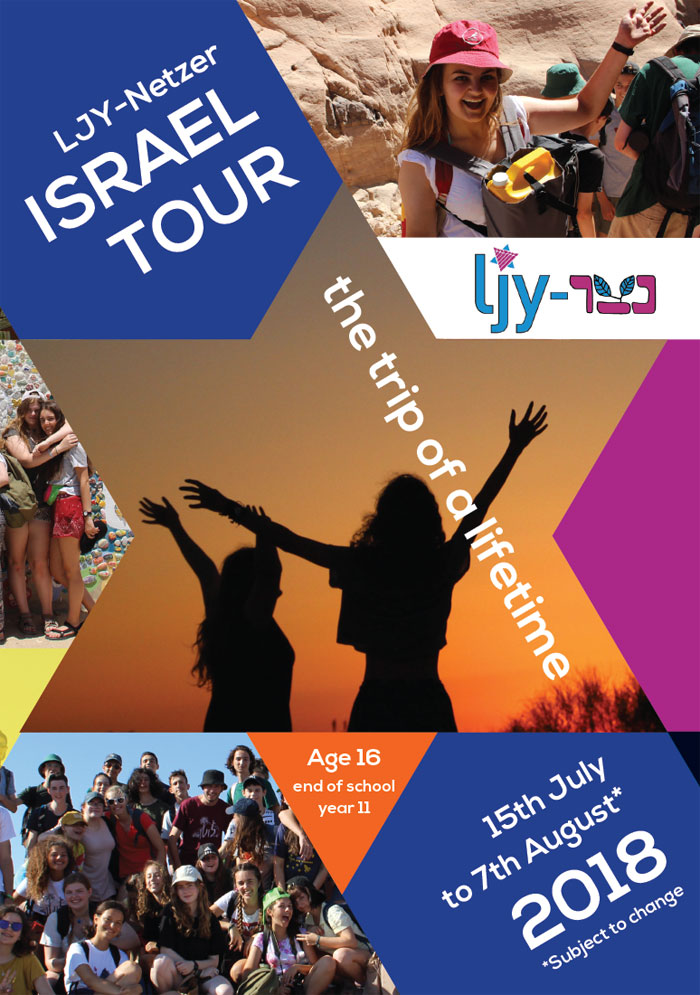 Click here for our full publicity.
WHAT IS ISRAEL TOUR?
Israel Tour is an amazing opportunity to experience Israel, exploring the land from top to bottom. Whether or not you've been to Israel before, Tour is the perfect opportunity to discover this fascinating country and develop your understanding of Israel and Judaism. Whether this is your first or fifteenth event, you will be welcomed with open arms. This trip will give you the chance to explore the desert in the South, kayak down the Jordan River in the North, experience modern Israeli culture in Tel Aviv and discover a special spirituality in Jerusalem. LJY-Netzer Tour truly does offer something for everyone. Not only will you discover more about yourself and bond as a group, you will have the opportunity to develop your leadership skills and meet loads of new people. Generations of sixteen year olds across the UK have gone on Israel Tour and said it was the most amazing summer of their lives…so don't miss out!
LJY-Netzer is proud that through a Liberal framework, it acknowledges and educates about unique challenges of Israel. This includes listening to and engaging with multiple narratives working for positive change in Israel from across the spectrum. Our madrichim (leaders) provide a safe space for chanichim (participants) to grapple with the challenging subjects in a sensitive manner with a variety of information.
WHAT LAST YEARS' PARTICIPANTS SAID…
"Volunteering in Carmiel was one of my favourite moments on the trip because it was a fun experience and has made me want to do something similar back in the UK."

"I loved Israel tour because for an entire month I learned so many new and interesting things and only ever felt as though my opinions and thoughts about those things were valuable and important. I was always surrounded by like-minded and amazing people and so I never felt alone."

"Tour was honestly the most life changing, inspirational (and definitely the funnest) experience which I will never ever forget."
Israel Tour Taster Day: 10th December
Tour Taster Day is a great chance to meet all the new people that will be coming on Israel Tour, as well as getting a taste of what Israel Tour is going to be like. It is a fun filled day, which allows individuals to begin to set their expectations for Israel Tour, learn about what a day on Israel Tour is like, as well as being able to access the programme for the tour. Most importantly it will be a place where the start of friendships are formed, which can continue on for the rest of your life. We are holding a parents evening from 17:30-18:30 that day to give a presentation about Israel tour; and answer any questions you may have.Israel Tour is a fantastic opportunity to continue or start your Liberal Jewish journey.
Israel Tour Taster day is a gentle way to find out about LJY-Netzer and to see whether Israel Tour is for them, with no commitment or cost.
To sign up for Tour Taster Day click here.
Tour Orientation- 3rd- 4th July
Tourientation is a two day event where the group get to meet for the first time. It is a chance for the whole group to get to know one another a little better- whether you have been on LJY-Netzer since you were 7 or this is your first event. You meet your tour leaders, along with the rest of your group, and start looking at your aims and expectations for your time in Israel. Not only do we work to bond the group with fun activities and learning, but we also go through some of the logistical aspects of tour, such as what to pack, and some of the activities we will be doing to get them really excited about their upcoming trip. We stress the importance of Tourientation for these factors, as we believe it is a great way to begin your Israel Tour Journey. It will be in a London based synagogue, specific location to be confirmed.
To confirm your child's attendance, click here.
Price
LJ members: £3100
Non-LJ members: £3200
Bring a friend who has never been on LJY-Netzer before and get £50 off!
On LJY-Netzer, we believe that everyone who wants to attend our events should be able to. Available through Liberal Judaism and the UJIA for applicants who cannot meet the full cost of the programme. Through bursary funding, UJIA aims to offer young people the opportunity to take part in a Youth Movement Israel Tour. If you are in a financial situation where you are unable to afford the full cost of the programme, please tick the appropriate box on the initial application form and you will be sent a financial assistance form. UJIA's bursary fund will assist individuals to the best of its ability based on a means tested process. The UJIA Bursary Fund Committee guarantees complete confidentiality throughout the process and that the identities of the recipients of bursaries remain anonymous. For more information please contact Becca Fetterman.
Contact information:
Ellie Lawson (Movement Worker in charge of Israel Tour):
0207 6319 823
e.lawson@liberaljudaism.org
For information about financial assistance, please contact Rebecca Fetterman:
0207  6319 831
r.fetterman@liberaljudaism.org